Mothers' Day at GVPS, BADDI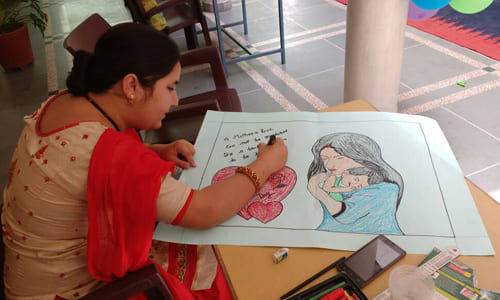 GOLDEN VALLEY PUBLIC SCHOOL, BADDI celebrated Mothers' day on 12th of May 2017 in high spirit. Special Assembly was held by the students to mark the occasion.Mothers were given special invitation to participate in various fun filled activities like- Cooking, Creativitive Art know your child etc held at GVPS. Students recited poems for their Mothers and made cards.Chairperson: Mr B.S. Kashav & Director Mr. Parminder Duggal gave a vote of thanks to all the mothers who had made a special effort to be part of the celebration.

The students of Golden Valley Public School Commemorated Mothers' day to pay a tribute to mothers all over the world. There was an active participation of the mothers of tiny tots. All the mothers were seen enthusiastically participating in the various games and activities put up by the students and teachers of the school. It was good to see the mothers shedding their inhibition, thereby adding element of from to every activity.A special assembly was organised where children highlighted the fact that mothers are beyond any comparison and are source of strength to each one of them
Gold & Silver Medals in Olympiad for the Students of GVPS, BADDI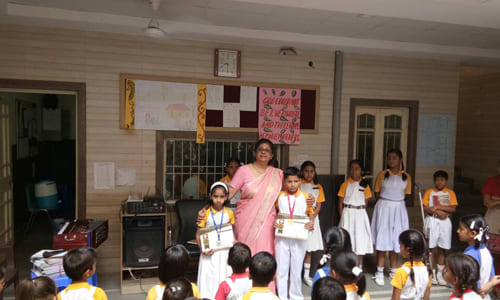 Anshu Priya of class- V and Vicky Kumar of class-VI secured 1st rank in iOEL 2017(level-1) and were honoured with Gold Medal in the Assembly 17/05/17.
Isha of class-V made the School proud by securing II Rank in iOEL (English Olympiad) and was honoured with Silver Medal . All these students got a very good position at the State level too. Chairperson Mr. B.S Kashav & Director Dr. Parminder Duggal congratulated the students on their commendable achievement.
Activities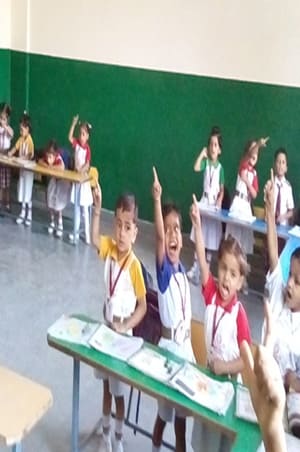 Golden Valley Public School has an individualized academic program in which children progress through a curriculum of concepts and skills at their own pace. We utilize a variety of instructional techniques and methods, believing that no one system is ideal for every child.

The curriculum is sequenced and developmental, emphasizing remediation of the cognitive skills necessary for learning and social development. Students explore the concepts and skills found in most typical elementary, middle and high school programs. We particularly emphasize written expression and literacy in all its aspects as the key to future academic success.
Reading comprehension and acquisition of math concepts and operations are fundamental elements of our curriculum. Study and organizational skills are embedded in the curriculum to promote self-reliance and future academic success. Students develop an internal sense of organization and motivation through choice making, experiencing the results of hard work and academic inquiry.

Golden Public School focus is on how each child can learn best, rather than on having the group "cover" a specific quantity of material. Consultation between classroom teachers, assistant teachers, and other specialists is continuous, so that each child's program can be modified to meet his or her specific needs.

The whole year is divided into two semesters, each including two class assessments and one pen and paper test. The class assessment consists of various activities to give a chance to every type of learning capabilities.

These are chosen from a range of methods like:
Speech Competition
E-Tests
Projects
Assignments
Blackboard Tests
Viva
Debates
Collaborative Activities
Computer Techniques Based Presentations
Quizzes
Public Speaking Intra Class Contests Etc.
Activity Oriented Teaching For Pre Primary School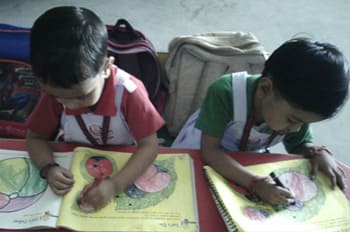 Our Curriculum Is Totally Activity Based. The Curriculum Allows Children To Explore, Do And Learn. A Wide Variety Of Indoor And Outdoor Games Encourages Healthy Competition And Helps Develop Gross Motor Skills Involving Coordination, Ability, Balance And Speed.

They Also Assist In Understanding The Strengths And Potential Of A Child. The Use Of Modern Audio-Visual Aids Such As T.V, Projectors, Audio Systems And Interactive White Boards Build Up Interest And Make Learning Easy. Specially Designed Activities Coupled With Rich Learning Material Such As Reading, Painting, Story Telling, Dressing Up, Make Believe.
Games , Scribbling Boards, Jumbles, Jigsaws, Building Blocks, Finger Painting, Clay Modeling, Paper Tearing, Folding and Pasting etc. adds to the experience of your child. . Regular work sheets specially designed by the class teachers keeping in mind the activity oriented methods, Interactive Boards, Multimedia room and special time for child based activities handled by professionals are some of the special features.